Running an online business is hard work and one of the things businesses struggle with is getting their customers to trust them. With so many shady websites on the internet, it's easy to see why people can have a hard time purchasing anything from a website they don't trust.
This is why building trust with customers (including helping them stay safe online) is one of the most important things in running an online business. Even if you have the best products in the world, nobody will buy from you unless they can see that the business you're running is reputable.
Luckily, you can build customer trust with just a few simple strategies.
#1. Choose a domain name that builds trust
One of the first business decisions you have to make is choosing your website's domain name. Some people don't realize the importance of a good domain name, but since this is the first thing your potential customers will notice when they visit your website, you need to make sure the name is trustworthy.
Choosing a reputable domain name takes a lot of thought and planning. When doing so, make sure your chosen domain name meets the following criteria:
Emphasizes your brand values. Think about words that will describe your brand's most important qualities and describe the essence of your business. The name you choose needs to be straightforward and mustn't mislead customers so it can make a good first impression.
Simple. Too many words in your domain name will just confuse website visitors and make the name hard to read and understand. Domain names most commonly contain two words and are 12 characters long, so try to choose a name that falls into those parameters.
Captures a sense of security. There are some words that just seem untrustworthy and will prevent people from entering your website. Conspiratorial and sensational words should be avoided at all costs even if they relate to your business in any way.
Ends in .com. The most commonly used and most trustworthy domain name extension is .com. If you can't register the name you want under this extension, it's much better to think of a new name than choose a less popular extension.
Once you come up with a great domain name, all that's left is to register it. Even though most people think registering a domain name is expensive, you can find attractive yet cheap domain names and register your name without breaking the bank.
#2. Start a customer loyalty program
It takes a lot of time, effort, and money to bring in just one customer. Once someone becomes your customer, they've already shown they have some trust in you, so now is the perfect time to build your relationship with them and turn them into a repeat customer.
Customer retention needs to be a big focus for you, as it's much cheaper to keep an existing customer than bring a new one in. In fact, 65% of a company's business comes from existing customers so it's in your best interest to find a way to keep the same people coming back for more.
One of the easiest ways you can do this is to start a customer loyalty program. These programs help build relationships with your customers, which only increases the trust they have in your company and entices them to return to your website.
Customer loyalty programs reward customers every time they purchase an item from your store, and they can come in multiple different forms.
Different loyalty programs you can implement include:
Value programs. Businesses that have value programs donate a portion of the earnings they make from a sale to a specific charity or cause.
Points programs. For every dollar someone spends on your website, they get one point. Once they collect enough points, they can redeem them for rewards.
Paid VIP programs. A customer can pay a small fee to join this program, and in return, they get access to special promotions.
#3. Include testimonials and reviews on your website
While there are a lot of things you can do to prove you're trustworthy, website visitors won't believe you if you don't have proof. The best thing you can do is show what people who have already purchased from you think about your business and products.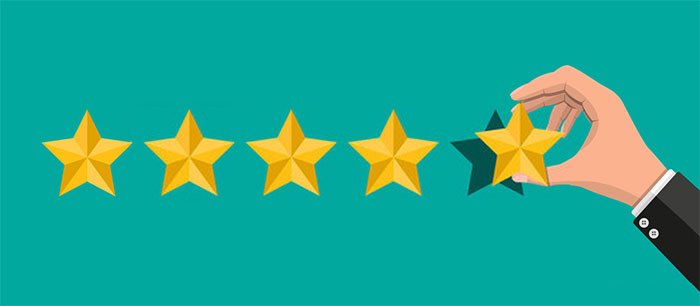 You can do this with customer reviews and testimonials, which are essential for building trust. Testimonials are positive comments previous customers have left on your website that show how much they enjoyed your products. Reviews, on the other hand, can be both positive and negative.
Nearly nine out of ten consumers read reviews before making a purchase, so if you don't have this social proof on your website, it will be difficult to grow your business.
It's important to convince your website visitors that your testimonials and reviews aren't fabricated. For testimonials, it's best to post a video testimonial if possible. If you don't have this option, you can post written testimonials that include:
Full name of the writer of the testimonial
Their photo
Their geographical location (country, state, and city they live in)
Name of their company and title (mostly for B2B products)
As for reviews, the best way to prove none of them is fabricated is to keep all reviews on your website, no matter if they're positive or negative. Just make sure to reply to all negative reviews to see if you can fix the issue and ensure it won't happen again.
#4. Show the personal side of your business
Another way you can earn your website visitors' trust is to show them that you aren't just a corporation and allow them to get to know you personally.
You can do this by displaying pictures and bios of all your employees. You can post videos in which you and your employees can talk about yourselves, your relevant work experience, as well as some personal information that customers will be able to relate to.
You can also write a post where you explain why you decided to start your company and mention all the struggles you faced before reaching the amount of professional success you have now. Share your company's history and include some important milestones you achieved since starting the business.
All of this will make your customers feel like they know you on a personal level, which will make it easier for them to identify with you and trust that you will treat them fairly. It will also show that you're not just a big corporation that treats its customers as nothing more than a way to earn a profit.
Final thoughts
An online business has to work on earning a customer's trust, but once you manage to do that, all you need to do is nurture that relationship and you'll probably have a customer for life. The beginning is the hardest as you work toward becoming a reputable business, but earning trust will become easier with time.
As long as you implement the strategies you just read about, all you need to do is keep showing people your business is worthy of their trust. And as long as you work hard, that shouldn't be hard to accomplish.