The most successful Amazon sellers don't get to the top by chance. They research products, properly optimize their listings, and effectively manage their inventory and pricing.
They also use the right tools.
One of the most popular suppliers of Amazon seller tools is AMZScout. They offer a wide range of software to help with product research, keywords, and fee calculations. These tools have been used by thousands of sellers to build successful businesses.
In this review, we're going to take a deep dive into all of AMZScout's offerings to see just how effective they are.
Keep in mind that even if you don't sell on Amazon it's still worth looking into these types of tools. Amazon is the world's biggest online marketplace, so any trends you discover there will likely be true on other eCommerce platforms as well.
Product and Niche Research
When it comes to selling online, product research is arguably the most important step. eCommerce is currently booming, but that doesn't mean you can sell anything and expect to be successful.
Before you start selling a product you need to determine 3 things:
Is there demand for it?
Is there too much competition?
Will the profit margins allow you to make money?
Luckily, AMZScout offers tools that allow you to answer all of these questions.
Product Database
This is a search tool that allows you to find products based on a specific set of criteria. Its 44 filters include things like category, sales, number of reviews, weight, and more.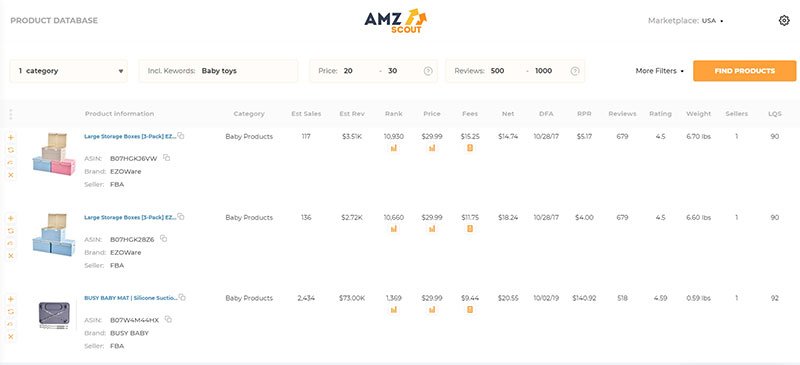 Perhaps the biggest advantage this tool has is the ability to search for products based on sales. When deciding what you should sell you can immediately narrow your list to only items that are generating large amounts of sales.
Reviews is another effective filter, as it's a good judge of the strength of your competition. Low review counts mean it should be easy to rank your listing ahead of competitors'.
Combine these with the many other search filters and you can quickly find the products with the best potential.
AMZScout Pro Extension
The Product Database is a good place to start your search, but before you decide to sell an item you need to do some more in-depth research. This is where the Pro Extension comes in.
With this tool you can see:
Estimated average monthly sales
Average price
Number of reviews
Sales history
Profit margins
And more
The Pro Extension can be used to research individual products or entire niches.
By far the most valuable feature is the niche and product scores, which tell you instantly whether a niche or item is worth selling. The scores are based on profit margins, demand, and a saturation score that measures the level of competition. A score of 7 or more means it will likely be a profitable market for you.
Keyword Research
Finding the right keywords is an important part of creating your product listings and ads. By targeting high-traffic keywords that are relevant to your items you'll drive more traffic to your pages and generate more sales.
AMZScout has 3 tools that will help you with Amazon keyword research:
Amazon Keyword Search: Enter the name of your item to instantly find dozens of related keywords. Terms are sorted by their total number of monthly searches so you can choose the keywords that will bring the most traffic. Include these terms throughout your listing and target them with your ads to boost your traffic.
Reverse ASIN Lookup: This tool lets you search for related keywords using a product's ASIN number. This is a great way to find out what keywords competing sellers are targeting.
Keyword Tracker: Track where your items are ranking for your target keywords. Just enter the keywords you want to track and an item's ASIN to get started.
It's worth noting that these tools can also be used during the product research process. For example, let's say you've found an item you're interested in selling and you want to find some similar products to sell along with it. Just enter the item into the Keyword Search or Reverse ASIN Lookup tools to get ideas for related products.
Fee Calculator
The final tool worth mentioning is the AMZScout Fee Calculator. This extension lets you easily calculate your fees and profit margins for any item sold on Amazon.
All you need to do is enter your total cost for a product (purchase price and shipping expenses). The tool will then give you your referral and FBA fees and combine this with your costs to provide you with your estimated profit margin.
Best of all, the free calculator is free so you can give it a try without any risk and get a taste of what AMZScout has to offer.
Pros & Cons of AMZScout
As you can see, AMZScout has some really great products for sellers. That being said, no tool is perfect.
We've broken down AMZScout's pros and cons below so you can decide for yourself whether their software is right for you.
Pros
Accurate Sales Estimates: You'll find the sales estimates AMZScout gives you for a product are very close to what you can expect to see when you actually start selling an item.
Lots of Tutorials: There's lots of information on their website that will help you use the software and learn more about selling on Amazon.
Affordable Prices and Free Trials: Their tools are very competitively priced, and there are free trials for all their products so you can try them risk-free.
Get Info on Every Amazon Product: Their database includes every item sold on Amazon.
A Complete Toolset: AMZScout offers almost everything you need to run your eCommerce business effectively.
Cons
Free Trials are Relatively Short: The trials range from 1 week to 15 uses. While they could be longer you should still be able to decide whether the tools are right for you.
No Features for Launching Products: The one thing AMZScout is missing is something to help you launch new products on Amazon.
Tutorials are Geared Towards New Sellers: Most of their educational material is aimed at beginners. However, the company is working to expand its tutorials to include information for more experienced sellers as well.
The Verdict
It's hard to argue with the effectiveness of AMZScout's software. Whether you sell on Amazon or another eCommerce platform, you should find a lot of value in these tools. That being said, we encourage you to take advantage of the free trials to see if AMZScout is a good fit for your business.