It's no secret that while the COVID pandemic has wreaked havoc on the world, it has actually done wonders for Amazon. To be fair, it's not like Amazon was been doing poorly before the pandemic. This is precisely why it's such a great idea to get started with your own Amazon business. Hundreds of thousands of third-party sellers account for more than half of what was 125 billion dollars in revenue in 2020 on Amazon.
Getting started with an Amazon business is actually much easier than you would think. The best part is that you can use Amazon FBA to handle all of your storage orders and shipping, and you can run the entire business from the comfort of your laptop.
The first thing that you need to figure out is what sort of Amazon business you would like to start. There are actually several options. However, the one that most sellers go for is the private label route. A private label Amazon business basically means that you come up with your own brand, introduce a new product, and proceed to sell it. The process of getting started can be completed in a handful of steps:
Step 1 – Find the right product
This is actually the most important step in the process and it's a step that you should not rush. Finding the right product to sell on Amazon can make or break your business. The logic behind finding the right product is simple. You must choose a type of product that is selling well online that meets specific criteria. Then, you must find a supplier and sell something similar yourself. Here are a few criteria that you should stick to if you are a beginner seller:
The product should not be too big or too heavy – The shipping cost for your product as well as the FBA fees can take a big bite out of your margin if the product is too heavy or bulky. This is why it's best to stick to items that weigh no longer than 3lbs and are compact.
The product should not have any mechanical or electrical parts – Of course, it's not uncommon for people to sell these types of items. However, for a beginner, it's not a good way to start. The most important reason for this is that doing proper quality control costs money and it's essential for any type of product with moving parts. You should first try to learn the ropes of Amazon with a simpler product, even if you have the funds available to do proper quality control.
The profit margin should be at least 30% – There is an unwritten rule that ⅓ of your sale price goes for manufacturing and shipping, ⅓ goes to Amazon and you get to keep ⅓. Of course, it's not uncommon to find a product with a higher margin. However, you should find one that offers you at least that ⅓ of the selling price back as profit.  For this purpose, it's best to use a tool for Amazon profit calculation, such as the free AMZScout FBA calculator.
The selling price should be in the $20 – $40 range – This point is connected to the previous one. If your selling price is under $20, it's going to be very difficult to make that ⅓ of the selling price back as profit. Also, if you have a higher selling cost than $40, you will have to make a more sizable investment in order to launch your product. The idea is to start a business with minimal investment, not more. Also, products with a higher selling price can impact your bottom line if you have a higher return rate. Don't force yourself to handle these kinds of challenges as a beginner.
Find a product with low supply and high demand – This is a tricky area. Also, this is not exactly a challenge unique to Amazon, since this is what you want to achieve no matter what kind of business you are running. A lot of sellers use highly specialized Amazon market intelligence tools to assist with this challenge. One of these tools is the AMZScout Pro Chrome Extension: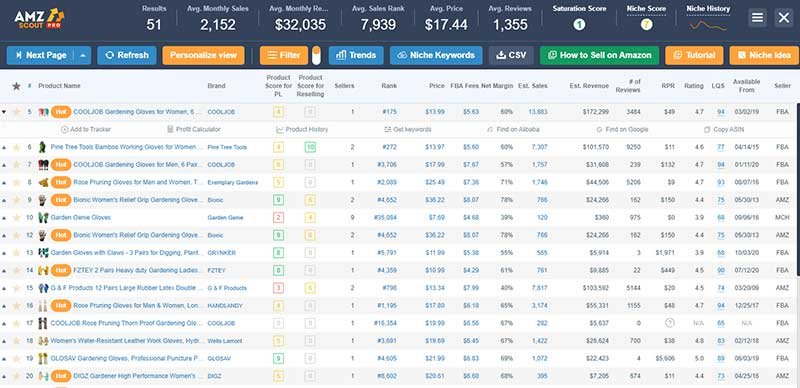 This tool will provide all of the information you need. By using it, you can unveil all of the hidden information beneath the surface by learning about sales volume, revenue, and sales history. This tool offers all of the information you need by simply applying your criteria to the search.
Step 2 – Find a supplier
After you find a product you wish to sell, it's time to start looking for a supplier. The best place to do so is Alibaba. Here you can browse all of the different types of products available and ask any questions you would like to know directly to the suppliers. The most important questions are the price of the product units, the minimum order quantity, and if they can customize the product to your specifications.
Step 3 – Order a sample
Once you find an appealing supplier that can make the product you need at a price you are happy with, you should order a sample to test it. You can use the sample to make some product images that could be used later for your Amazon listing.
Step 4 – Sign up as an Amazon seller
At this point, it's wise to set up your Amazon account and add your product. You don't need to completely set up your listing at this point. The listing will be a placeholder, not active or visible until your items are received.
Step 5 – Make your first order and create a shipping plan
Now, it's time to order your first batch of products. In order for them to be properly stored in the Amazon FBA system, you will need to create a shipping plan in seller central and print out the labels that go on your shipment.
Step 6 – Create your listing
While your first batch is en route, it's the perfect time to optimize your product listing. This requires some precise work. You will need to do proper keyword research and write high-quality listing copy. You will also need high-quality product images.
Step 7 – Sell
You're set! When the first batch of products arrives and starts loading into the system your product will become available for sale on Amazon. After this point, it's all about doing proper promotion and growing your sales by mostly using Amazon ads.
In conclusion, Amazon is a great place to be a part of these days. It was growing before, but it has grown even more in the last year and it shows no signs of stopping. Starting a business on Amazon has never been easier or more convenient. If you are looking to start a new business this year, it's hard to beat a prospect like this.