Security Information and Event Management system (SIEM) is an aggregate of SIM (Security Information Management) and SEM (Security Event Management) that provides a track record within the IT Environment.
What is SIEM?
SIEM technology has been used for more than a decade to identify Cyber Attacks. This technology enables you to have a real-time analysis of your security system as it works as an Umbrella for security software. This security system is a pivotal part of log management and offers features like threat detection, a user-friendly dashboard, log analysis, and comprehensive security. SIEM Tools function in an effective way to organize and protect sensitive data.
It gathers an immense amount of networked data and aggregates this data for human access. The most important part of this security ecosystem is it reduces cyber-attacks, by enabling the organization to investigate security alerts.
Significance of SIEM
SIEM Security is a platform that provides real-time and historical log data to establish a relationship that helps the security staff to overcome anomalies and susceptibility to damage. Its primary focus is on security-related incidents such as malware, failed logins, and other security threats.
Security Monitoring enables the organization to access multiple data sources like IDS information from antivirus for security incidents. It also helps the security team identify security threats that cannot be seen by individual security and help them focus on security tools alerts as they have great significance.
SIEM solutions are unique as it is a combination of both SEM & SIM and works more effectively to retrieve and analyze log data and real-time data to generate a report. It provides event correlation, analysis of the event, threat monitoring, and security incident response.
Also Read: Best Ransomware Protection Tools in 2023
Working of SIEM
SIEM works on two primary capabilities with ease:
The forensic report of all security incidents
Analysis of security threats
SIEM software works by collecting data from host systems' logs and events as an antivirus filter and firewall to bring the company's data to a centralized platform. When this software comes across any possible threat, alerts are generated which recognize the incoming danger, using a set of instructions and predefined rules by the organization.
SIEM Tools sort all the data into different categories, such as failed logins & malware.
These tools help the user to identify security threats at different priorities like high & low priority. The intensities of these security threats are defined by using a set of predefined rules. For example, if a user has forgotten login details and generates 10-20 failed login attempts, this unauthorized activity is set at lower priority by SIEM. But if a user performs a 110-120 failed login attempt, it may be a dangerous attack and set at high priority security incidents.
Best SIEM Tools in 2023
SIEM tools can ingest data from multiple sources to analyze and make a historic overview report. On the other hand, these tools protect your organization from emerging attacks. If a breach occurs, these tools generate a report to keep your network infrastructure evolving.
Below are the 10 best & fascinating Security information and event management tools used for security purposes
#1. Splunk Enterprise Security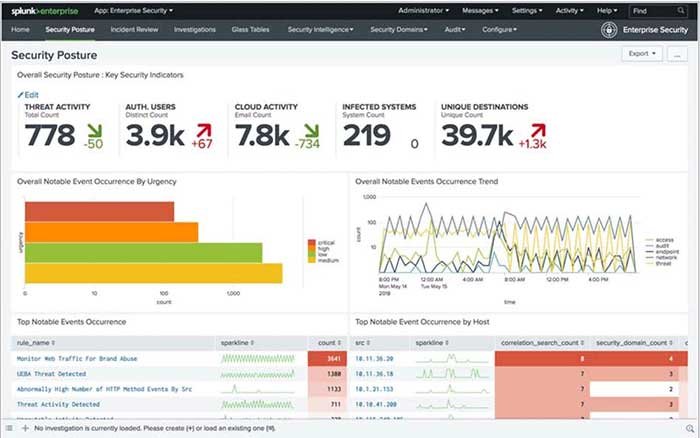 Operating System: Windows & Linux
Splunk one of the most successful and improved security operations provides the best management solutions in the world. It comprises Enterprise-level options and security operations such as dashboard customization, statistical analysis, and the asset investigator. This system is providing security to all public sector, healthcare, and financial services organizations.
The splunk tool works quickly to detect the threat and performs an automated action to carry out specific security actions. It is also capable of event sequencing with improved security operations. Users can easily customize dashboards, and visualizations are also customizable, like graphs & charts. This tool is available with a Saas solution and deeper analytic features, like in-depth annotations.
#2. McAfee Enterprise security management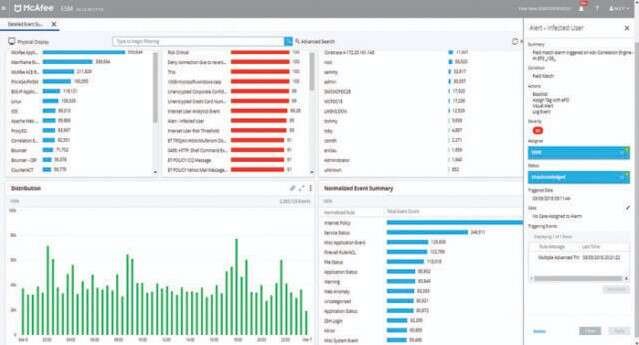 Operating System: Windows & Mac
McAfee is the best platform for analysis that provides you with real-time visibilities of networks, databases, and all the system applications. The user can easily collect all security events with the McAfee correlation engine that complies with data sources with ease. McAfee's platform can provide you with both, McAfee's technical as well as business support. Users have the power to decide whether their site should be visited by the Account manager after 6 months or a year.
McAfee is a tool with an advanced alert polarization system and Enterprise technical support. To streamline your operations, use McAfee's solution, which has a Global threat detection system. It can Monitor and analyze data through heterogeneous security and open interfaces for two-way integration. This tool has a dynamic presentation of data, such as remediating events and patterns. With its advanced threat detection and log management, it is easy to detect any security event.
McAfee is the best choice to compile disparate data and log across as this tool uses an active directory system to detect security need events.
#3. IBM QRadar SIEM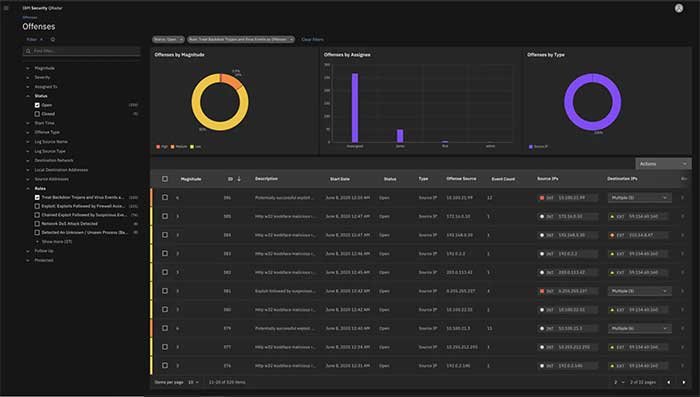 Operating System: Red Hat Enterprise Linux
IBM QRadar has many smart features that can catch a wide range of threats and viruses. It provides an advanced level of analysis and monitoring. If you are looking for a wide range of logs across the critical system, the IBM QRadar is the best and most reliable. It helps to detect inside threats, data exfiltration, and malware. It comprises an extensive log management system.
QRadar with an amazing Real-time monitoring system and Network display catch a diversity of threats and malware. The investigation and communication sessions are also available with two hosts. Users can perform Extensive Log management with the detection of pitching. This tool is best for IE, Firefox, and Chrome browsers with all these astonishing features.
 #4. LogRhythm NextGen SIEM products
Operating System: Windows & Linux
LogRhythm was established with Next-Generation solutions such as segmented threat detection, fragmented workflow, lack of centralized visibility, and alarm fatigue. This platform enables the user with all functionalities from behavioral analysis to Log correlation. It has a flexible data storage system with Al-based technology.
LogRhythm was established to process unstructured data with Al-based technology. This tool supports a massive range of devices such as Windows, Linux, and OS. Use all the functionalities and marvelous features for log correlation and segmented threat detection using the artificial intelligence of LogRhythm.
#5. AT&T Cybersecurity AlienVault USM
Operating System: Windows & Mac
One of the unique features of AlienVault is the Open Threat System. AlienVault comprised many more features like intrusion detection, SIEM event correlation, log management, and e-mail alerts. It works smarter to detect security incidents and automate threat hunting.
AT&T cyber-security has multiple capabilities to asset and invents any security issue. Its unified security management system is developed on-premises to handle AWS configuration issues with ease. A fascinating feature of AlienVault is OTX (Open Threat Exchange). This web portal enables the user to indicate other users' flag threats by using IOC (Indicators of compromise). All these features make this tool ideal for small, medium, as well as large businesses.
#6. OSSIM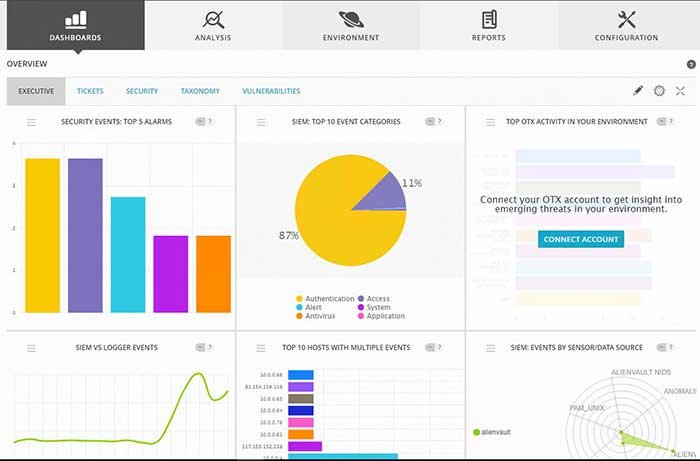 Operating System: Windows & Linux
OSSIM is the most potent open-source SIEM Tool by AlienVault. It can generate log data from various sources such as from the host system, and security devices, and convert it to the standard format. This tool is highly featured with correlation, normalization, and collection of data. If you want to establish an effective and robust security system, then choose OSSIM. It provides you with flexibility and complete incident management to eradicate threats.
It provides orchestration and long-term threat assessment to built-in automated responses. Use this tool as it gives you undefined security control and robust threat detection. The pitfall of this excellent SIEM tool contributes to receiving real-time data and log management. The automated workflow generates rule-based alerts for threat detection. This setup is particularly best for Windows as well as Linux and OS devices.
#7. OSSEC
Operating System: Microsoft Windows Platform
OSSEC, the free, open-source tool, is a reliable choice for the user for intrusion detection. This tool can perform LIDs Activities, log analysis, and monitoring of data from multiple sources. This platform can detect and remediate threats quickly. It is a learning-based platform that allows the user to visualize data in the standard format.
One of the significant advantages of this OSSEC tool is that it is programmed for both server-agent and as well as server-less modes. It enables you to monitor the activities of multiple networks on a single platform. The well-structured and supportive community behind this tool collaborate with all the user through the mailing system.
Host-based malware detection and Rootkit are available with astonishing features of threat detection. This SIEM solution can be used in different businesses like finance, healthcare, and higher education departments to operate pre-configure alerts.
#8. Sagan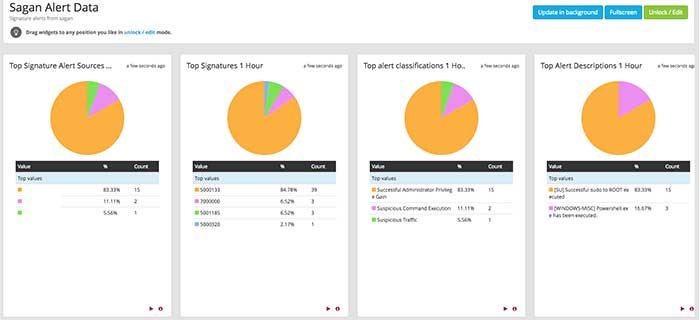 Operating System: Free & open BSD/ Linux
Sagan with multi-threaded ultrastructure can perform real-time log analysis and event correlation. This tool is a highly compatible BASE, EveBox security console system. It is useful for parsing and extracting data by built-in parsing rules.
Sagan's multi-threaded lightweight features provide the user with real-time log processing and extraction. It can quickly identify the logins from unknown geographical locations by event tracking. It is best for different output formats and multi-line log support.
It provides you with the solution to meet security issues and blocks all threats. To prevent downtime and secure your data from cyber-attacks, use this multi-featured SIEM tool. Sagan's structure is featured with high performance to maintain management software rules to correlate with log events. The flexibility of this tool makes it more compatible with all types of businesses.
#9. Snort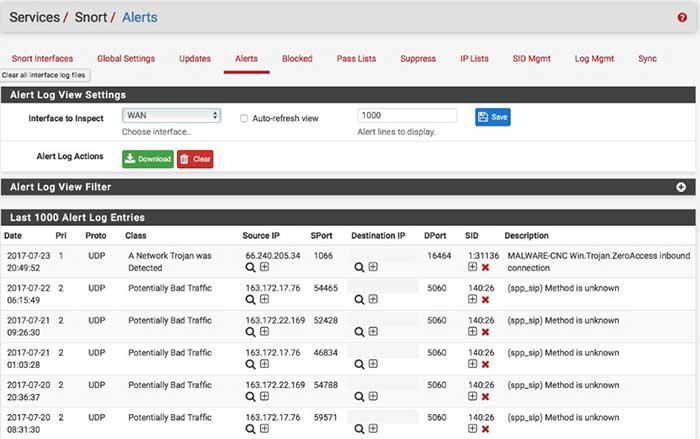 Operating System: Cross-platform
This open-source tool comes with sophisticated features of intrusion detection. This platform can analyze real-time traffic of the network and log analysis. It can perform many functions like probe or attack detection.
This platform is suitable for all IT experts and professionals, as it is not limited to the only operating system. The NIDS (Network intrusion detection system) of this tool is lightweight and detects malware and emerging threats. Snort by Martin Roesch monitors all network traffic and detects suspicious anomalies in the system.
Snort comes with a variety of different settings which include:
Packet sniffer
Packet logger
Intrusion detection
It can easily detect fingerprint login attempts, URL attacks, and messages from the probe and block these all threats. It is surprisingly a practical intrusion detection approach for Windows, Linux, and OS devices.
#10. Apache Metron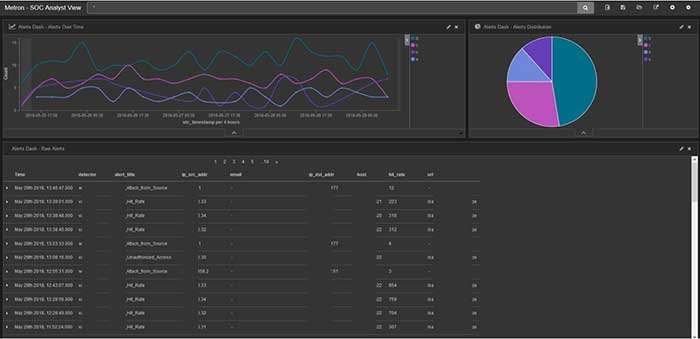 Operating System: Centos
Apache Metron tool combines multiple solutions on a single centralized platform. It integrates unique technologies to monitor and analyze data. It is capable of storage, capturing packet indexing, and large aggregations.
This astonishing tool has the following main components:
SOC analysis
SOC investigation
SOC manager
It is established to capture and normalize telemetry of any type because the telemetry generates data at high speed, which must be processed for further analysis. It collects geo-location and DNS information with real-time processing of data. For security visibility, log & telemetry are mined efficiently. It also increases long-term storage visibility for users. With efficient information storage and advanced analytic data can be stored for anomaly detection.
Conclusion
If you are looking for the best and all-rounder security and log management system that can be used for both Windows & Linux systems, then choose SIEM tools. These tools create an intelligent security strategy that can easily comprise the infrastructure of your organization. It protects your log information because cyber-attacks can falsify your log activities and misuse your data.
SIEM Tools focuses on Operation Team, Security Team, and Compliance Team as these are handling data and security alerts. This system helps the organization detect malware & threats that cannot be detected individually. It enhances incident management for the security team to uncover the threat route and helps to identify the source of attack across the network.
These SIEM solutions can detect threats with a real-time reporting system and increase log security efficiency. It provides potential security threats and is incredibly useful for small, medium & large organizations—the IT staff and professionals respond to security breaches and probe to save the organization from significant impacts. With the increased cyber-attacks, the efficiency of these solution tools is enhanced to overcome these threats.
Use these tools with astonishing features like orchestration, better collaboration, and enhanced cloud management and monitoring.