As the world is getting more high-tech, cybercrimes are getting higher. We all know that there are hundreds of tools for the protection of your computer. These tools are of no use when your data is still not protected at best. It is only possible to protect your data with extra security. This can be done by preventing your valuable files from ransomware. Ransomware prevention aids your antivirus in protecting your system. We are going to share some best anti-ransomware for your computer.
These best free ransomware protections 2023 will make you at ease. You can save your worth of billions of files with these best free ransomware protection. It can make your team's hard effort secure. You don't need to worry about ransomware attacks.
You can save your business from a ransomware attack by using this software. When you are running a successful business, you cannot afford such things to happen. Every lost hour counts in any business. Businesses cash each hour's productivity; such an attack will ruin it.
To tackle these ransomware attacks, you need to make your IT team efficient. There are some amazing techniques to fight off these cybercriminals' attacks. It helps you in not lose data and not paying these criminals a penny. These are some of the best ransomware protection for the business.
What is a Ransomware Attack?

A ransomware attack is when an attacker encrypts your data. This data could be of much use, it could cost you billions of rupees. Cybercriminals can attack your whole system and take your data. Then, they ask for a hefty ransom in return for it. What do they do exactly? They encrypt your files and de-encrypt your data when they get money from you.
They take away the person's ability to access their data. They cannot visualize, use, or open their files. It is very common for cyber attackers to attack your data. It is important to protect your data with ransomware protection software.
These attacks are popular because companies are digitizing their data. Companies don't get to know that they've got malware. These attackers work silently until they encrypt the whole data. They do their crime without letting the owner know. As the system is not protected, their attack becomes easier. Once they fully equip your data, they give you instructions to follow. By following those instructions, you'll know how to pay.
How do they get into your System?
Companies are digitizing their data. They are shifting their data to Cloud storage solutions. They put their data into the most vulnerable places. That is why it gets easy to encrypt. Companies use OneDrive or DropBox for saving their important files. These attackers require an untraceable payment system to attack. Bitcoin is the most popular in this regard. It is an untraceable payment system. They also get into your emails and ask people to open a link. They instruct another person to buy a gift card. Usually, they do this to get the card number. When attackers get this favorable condition, they strike.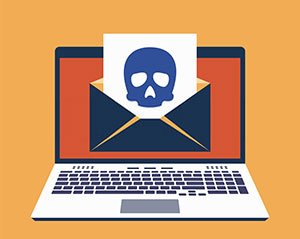 This kind of attack mostly occurs when you open a link via e-mail. Attackers can get their way through a Word document or pdf file. These are mostly infected files with a virus. When you open such files, attackers can get into your system and hack your data. right away valid. You think of it coming from a legitimate source. But it is an infestation. It can fool you into thinking of its legitimacy.
It can even come from your Company's name domain. There are so many cases that people fall into this vicious trap. Just because they are unable to recognize this malware. If you ever come across such an e-mail, link or document, don't click on it. This is an attacker's way to trap you. You need to block it right away. Report such files to your company IT department.
You can even get this malware into your system with a USB drive. Yes, you heard it right. The USB that you just used to share some data with someone? Yes, it could be malicious. These gimmicked USB drives can put you in a lot of tumults. If your system is equipped with malware protection software. Your computer will find it and give protection. If not, then you will get into deep difficulty.
Types of Ransom Malware
Infiltrated Word Document: These are sent to your e-mails. It looks very professional. Hackers trick you into thinking it is an official e-mail. When you fall into their prey, they enter your computer.
Malware Infected E-mails: These e-mails can contain any kind of links, or gift cards that demand your bank details. Some even can encrypt your whole hard drive and lock your data. Some require you to pay to de-encrypt your data.
FBI Impersonation: These hackers trick victims. They make them believe that they have done some crime, so they have to pay a fine. They tell the user that because of crime, the FBI has encrypted their data. It looks like a big thing when you are not familiar with such hackers. Right?  They demand fees so the user can again get their file.
Infested pop-ups: These pop-ups appear on your web as ads and banners. When you are searching through your web, it appears. Your click lets them enter your system. It can even exist in your most trusted, regular websites.
Best Malwarebytes anti-ransomware Software
There are some best ransomware protection tools available in the market. They will protect your substantial company files, money, and device. You will find some of the best tools here to secure your business. Some require ransomware protection back-ups to secure your files and data.
Others can detect on the basis of behavior; some implement bait files. These tools will keep the attackers away from your system. It gives you the authority to be more vigilant about company files. Your IT department needs it the most. It will keep the nasty tricks of attackers at bay. Let's see some of the best ransomware protection tools.
#1. Patch Manager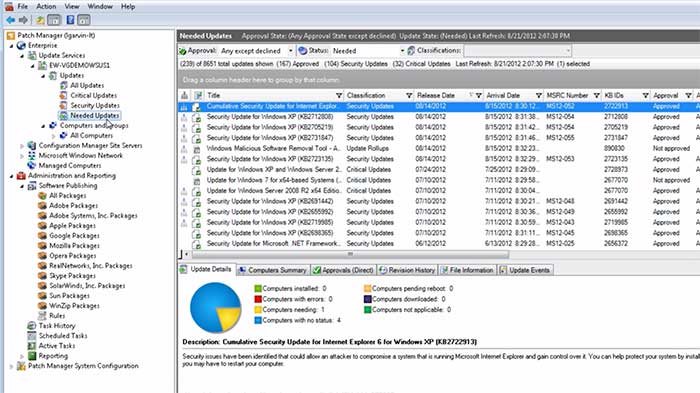 You are inviting these attackers if you have not updated your software. If you are not on top of patches, then these invaders will find their way in. They won't make any noise until they have encrypted your all files. You need to update SolarWinds Patch Manager in this case. You should not let your workflow be affected. It becomes a bit hectic when new patches are being upgraded daily.
But you have to check what needs the patching and what is left. It is a tiresome process but it is important. By SolarWinds Patch Manager, it becomes easy for your Company. This can be used on your PC, Windows 10, and all versions of Windows. It can automate this process. By automation, your workload will be lessened. You can have this anti-ransomware tool free, just download it.
#2. Check Point ZoneAlarm Anti-Ransomware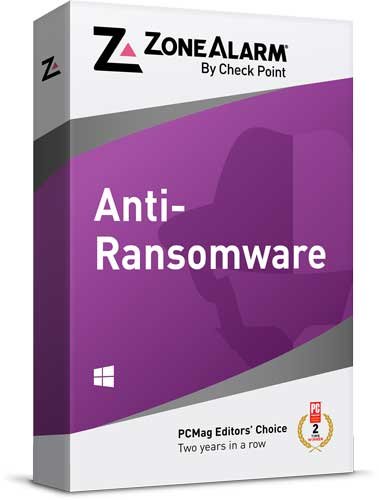 Check Point ZoneAlarm Anti-Ransomware is a very efficacious tool. It depends on the bait files which are present in specified folders. These targeted folders are present to attack these cyber-criminals. Whenever any modification occurs in these files. This software detects it promptly and shuts down the infection as it perceives it. It does not give any chance to the attacker to get hold of real files.
This software usually encrypts and de-encrypts data. This glitch is not something to worry about.  Check Point ZoneAlarm Anti-Ransomware can also repair the attached files. This element of catching the attacker even if he has hold of your files. This makes this software lucrative. It can catch the intruder even if it's in. This software makes it easy for the user to keep a check for any malware.
#3. Security Event Manager
SolarWinds Security Event Manager (SEM) is the most comprehensive tool. It is one of the best tools out there to protect your system from infestation. It can give you all the views of user activity. It can inform you about network connectivity in one domain. You can easily collect, and keep an eye on all the data. Monitor and analyze your log files from applications. You can do this all in a single place. This software can be used for Windows 10 and all versions of Windows.
This tool has the capacity to inform you of each detail. If an intruder tries to hack files, it will alert your privileged accounts. You can analyze and monitor your privileged accounts. You can analyze who is using it, how, and from where they are using it. These all elements make it one of the best ransomware protection tools in 2023. This tool has expanded its efficiency. It has built-in cybersecurity Intelligence. It can detect malevolent IP addresses. This software can detect and attack attackers by protecting your system. As attackers find a new way to attack, it gets updated and alerts you. This is Malwarebytes anti-ransomware for business. You can try it for free.
The most interesting thing about SEM? It has an automation process. It detects the malicious IP address, and blocks it. Disable the accounts, and alerts you. Its automated process has helped users' workflow a lot. Workflow functionality increases by having this software with you.
#4. Patch Manager Plus
Patch Manager Plus, is an all-around patching solution available on-premises and on the cloud, offering automated patch deployment for Windows, macOS, and Linux endpoints, plus patching support for 900+ third-party updates across 500+ third-party applications.
Download a 30-day free trial now!
#5. Bitdefender Antivirus for Mac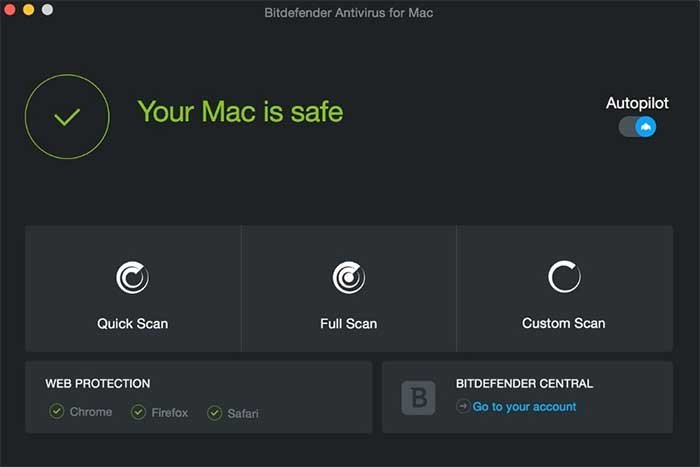 Let's do the Bitdefender anti-ransomware tool review. It is one of the best anti-ransomware. It is considered as best mac antivirus. This comes with a lot of capabilities to handle the infestation. Bitdefender Antivirus blocks malicious IP addresses. It also detects a behavior-based threat. It backups up your data so your files are saved. It does not let intruders play its game on your system.
It blocks unauthorized attempts on your system. Users have faced some problems with this software. Users expressed annoyance with Bitdefender Antivirus for Mac's traffic light.  Users also experienced a problem with Mac's autopilot.  It is also automated. It is the top MAC anti-ransomware tool. This Bitdefender Mac competency is unmatchable. The software keeps updating and resolves issues routinely.
#6. CryptoDrop Anti-Ransomware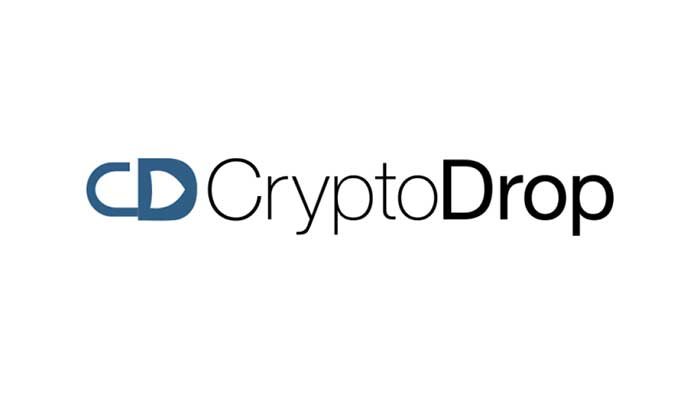 Ransomware attacks are protected by CryptoDrop for your specific files. it stops ransomware attacks on the system by behavior-based detection. This software takes care of a lot of things in a single go.
It makes copies of your important files. It even makes copies of those files in a hidden folder. If you are subjected to a ransomware attack. You can use these files to save your data. CryptoDrop detects and defends most ransomware attacks. It was passed in laboratory testing to defend specified files 6. Remote Monitoring & Management (RMM)
This is one of the best ransomware protection tools in 2023. You can count this in as one of the most equipped with impeccable features. It can protect your clients' sites without projecting it to any threat. It can manage service providers and protect your system from ransomware.
RMM inculcates Endpoint Detection and Response (EDR) software. This detects and analyzes files in real time. This gives you access to antivirus. Antivirus will update you regularly. It uses machine learning to find and neutralize possible attacks. It also includes a backup and recovery tool for restoring your files.
Why you must have Anti-ransomware?

Once you are attacked by cybercriminals. Securing your system with an antivirus can be one way. It cannot be a very reliable way. You cannot access your files. Ransomware prevention is best for your system. Monitor your log and event management. It is better to keep an eye on all the activities. Make sure to use an updated version of the anti-ransomware software.
Keep an update on patches so it does not let any cracks left out to fill. By installing software, you cannot just sit calmly. You have to educate your employees about ransomware.
How does it attack? Why they should not open any mysterious links or e-mails? Back up your folders online and offline. Having a backup is smarter and keeps you one step ahead from attackers. Don't let every user have admin-level access. It is about securing your data and company from ransomware.