Deleting a Skype account is a difficult task now. Microsoft has made deleting Skype account more intricate. As technology has advanced more, Skype hype has become very less. New apps with easy functions have made user life easier. Every other app now offers video call, a voice call with standard quality. Therefore, users decide to delete a skype account as it just takes up space. A big complication occurs when users decide to free up space. But, they find absolutely no way to delete Skype account. Only by doing a multi-step process, you can unlink your Skype account.
Microsoft does not allow the user to delete a Skype account easily. In some cases, you have to delete all Microsoft account to delete Skype. But, We are here to solve your problem. You can now just unlink your account without deleting Microsoft's account. You have to cancel any subscriptions you may have. Remove your payment methods and unlink your Microsoft account. This could be a bit of a task to delete a Skype account.
Users mostly try not to delete Microsoft account because of services. Microsoft services such as Xbox Live or Outlook can be helpful for people. Therefore, deleting Microsoft account is not the right option for them. It is better to unlink a Skype account from Microsoft. In this way, you can close your account permanently. You have to delete all the information in order to unlink your account. Your messages, personal information, and history will delete. It will be deleted permanently.
Unlink Microsoft Account before Deleting Skype
Open skype.com in a web browser and sign in to your Skype account.
Then find account settings. It will be at the bottom of the webpage. Click Account settings under Settings and Preferences heading on Skype.
Then there will be an unlink option next to your Microsoft account.
Now, there could be two scenarios. In case if you find the option linked then it means your account is linked with Skype. If the "Not linked" option is visible on your Skype account. Then it means your account is not linked with Microsoft account.
If it is linked, then you will click on "unlink". A confirmation message will appear. You have to click Continue to confirm the action. This is how you can unlink your Skype account easily from Microsoft.
Other important factors before Deleting Skype
Re-Singin
Although, unlinking can just sign you out from Skype. This can be a problem. But, you can sign in again and delete your account. If some other problem appears. You can contact Skype support anytime.
Subscription
You have to cancel any recurring payments. There will be a blue bar on left in Skype account settings on the web. You will click and cancel the subscription from there.
Number
Go to Manage feature sections, Click Settings. Click on the Cancel Skype Number option. It is important to cancel it before closing the account. If you have purchased a Skype number, you must follow these steps.
Although your Skype Number subscription will remain active until the expiry date. You cannot request a refund for the canceled Skype number from Microsoft. The data is stored in the web interface. Microsoft reserves your Skype number for 90 days. Microsoft will let you purchase this number during this period. You can reactivate your Skype number subscription in the Manage features Section.
Billing
Go Billing & Payments section. You can disable the Auto-Recharge feature in the Account section. This will disable your recurring payment methods. It automatically credited your Skype Account when the balance goes down.
Also Read: Disable Cortana on Windows 10
Let's find a way to close your Skype account:
Microsoft has said that "if you wish to delete your Skype account, contact us". This explicit statement by Microsoft is proof that it is no easy task. Before closing your skype account, make sure to follow these steps:
Delete or cancel any Skype number you have
If you have made any subscriptions, cancel and request for refund
Try to update your mood message and set the status to Offline
Disable the Auto-Renew feature and remove payments
Make sure to sign out from all the devices.
Empty your Skype profile. Delete all the details from your Skype profile.
If you have any Skype credit remaining, try to use it. It is better to use it because you won't get the credit back. Once your account is closed by Microsoft, it is closed for good.
Here is a step by step guide to delete a skype account:
1- Open skype app on your desktop.
2- Left click on profile image or skype name. Another popup will appear.
3- Scroll down and click on the setting tab.
4- Now go to the side-panel and select Close your account option.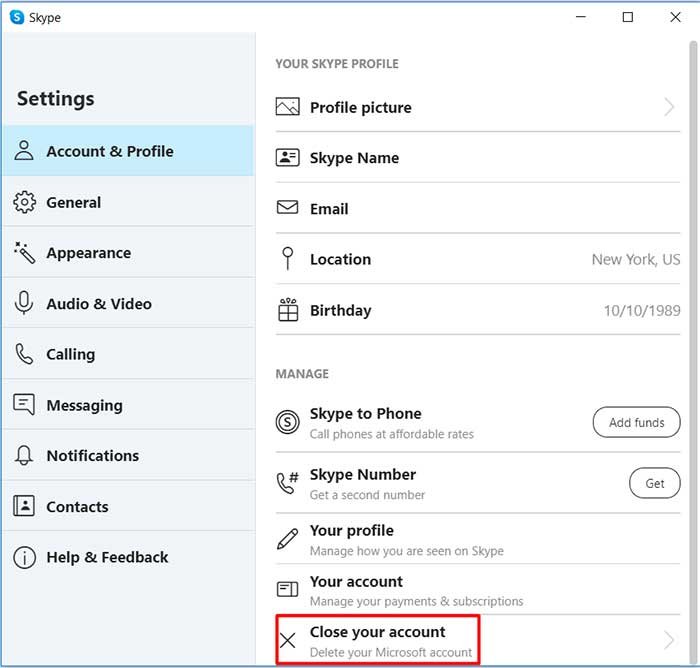 5- Now there you need to sign in again and verify your ID.
6- Now read carefully all the terms, what would be you lose, and all other conditions. Then click on Next Button.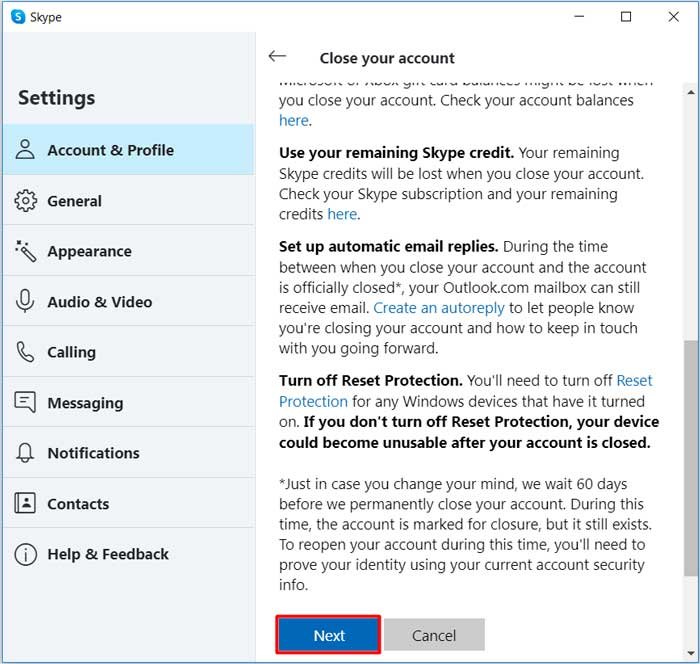 7- Here you need to select the checkboxes and mention the reason "why you close the account" and select Mark account for closure.
When you have done these steps and submitted the account deletion request. Skype will take some time to proceed with your request.
Also Read: Difference Between DDR3 and DDR4 RAM
According to Microsoft, Your name from Skype will disappear after 30 days. Skype directory won't have your name after 30 days. You may want to delete Skype account but remember these facts. Permanently deleting your account will remove data with it. Your Skype accounts, chat history or purchases will disappear.
In case, you do not want people to find you on Skype on these 30 days. You can change your name, mood, profile picture. You can change your status to invisible or offline. This will prevent people to find you on Skype. Do not forget to remove any personal information from your account. Before closing your account, you should make your Skype account anonymous. In this way, no one can find you. Your friends may tell you that your account is still active. If they will remove your name from the contact list, they won't be able to see your name.