Discord has become almost synonymous with software for talking to friends while playing online. It is one of the most versatile programs that has conquered the hard disk of many gamers and, as such, it has infinite options and best discord bots that can be used to improve the gaming experience.
Within each channel of Discord, you can add bots, such as in Telegram or Slack, to increase the functions or improve interactions between users. There are many options and the easiest way to find them is by going to specialized pages such as Bots on Discord, Discord Bot List, or Carbonitex. You just have to add them to the server you want and, if you wish, modify it to your liking once installed.
10 Best Discord Bots that Improve the Performance of Your Server
Discord has a variety of different bots, which are easy to program and offer a lot of options to manage servers under a wide range of possibilities. Here we can have bots to automate tasks, to moderation, to create memes, as well as to offer statistics of players or games. I have enlisted some of the best discord bots down below:
#1. Probot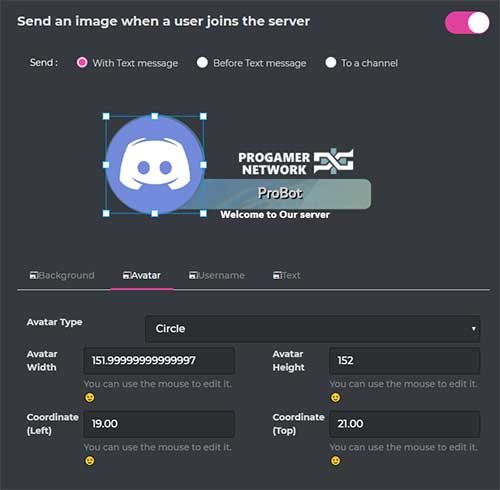 I will open this list of best discord bots with probably one of the finest present out there. The name is probot. It is different and unique from the other discord bots in the sense that it is quite modern and offers a whole lot of new features and customization than any other discord bot.
When you add this to your server the first thing that will catch your attention is the welcome image. It is up to you if you want to use the already present welcomers or if you want to give them your personal touch as they are 100% customizable. It is always online with no downtime. Players from all around the world speaking 13 different languages can use this bot without any problem of any sort.
#2. Carlbot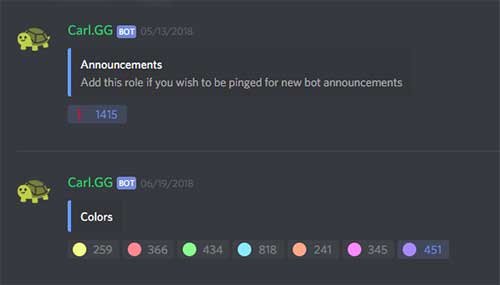 This one is almost as unique as the previous one because of its variety of features. One of its outstanding features will probably be the 250 reaction roles it offers. There is a whole list of different modes as well including unique, reversed, binding, etc. With carlbot you do not need to worry about your messages and chats getting lost, because it logs everything.
You can get people's votes on anything that you propose. There's an anonymous mode for suggestions as well. With carlbot you do not need to worry about spams and bad links as it deletes them easily without any trouble. You will love its star bot as well.
#3. GAwesomeBot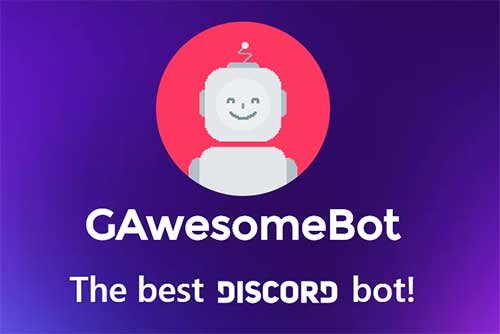 GAwesome bot is awesome because of its user-friendly nature. You can create thousands of awesome memes with this bot. You can have your custom RSS feed and you can search thousands of GIFs as well. It has an uptime of 5 days.
This is one of the best discord bots thanks to the features of in-chat polls, trivia games, and various giveaway options. You can make wonderful extensions with the help of JavaScript as well.
#4. Octave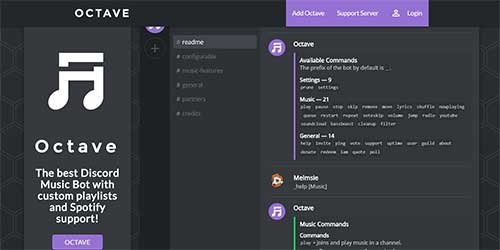 You can add this bot to Discord to help with various tasks, such as playing music or rolling dice. You can add, play, and remove any song from youtube, twitch, mixer, Bandcamp, sound cloud, and Spotify, etc. Just like Dank member which is also a partner of the octave, you can add different memes and GIFs, etc.
You can learn about any server channel, your opponent, or your friends, thanks to the unique features of the octave. Just like the previous ones in this list, you can create different polls and memes from this bot as well.
#5. Nuggetbot
This is a bot with hundreds of commands under its sleeves and you can choose up to 15 commands at one time simultaneously. You can share memes as well as play games like blackjack and slots etc. It has a super-advanced ability to identify and remove bulk messages. Nuggetbot can create interesting roles for not only you but your friends as well. These roles are customizable so you can change them in any way you want.
You can also listen to any time of music that you want with the help of NuggetBot. It has NSFW content as well. You can search Wikipedia, Reddit, and many other such platforms with the help of Nuggetbot.
#6. Discord Translator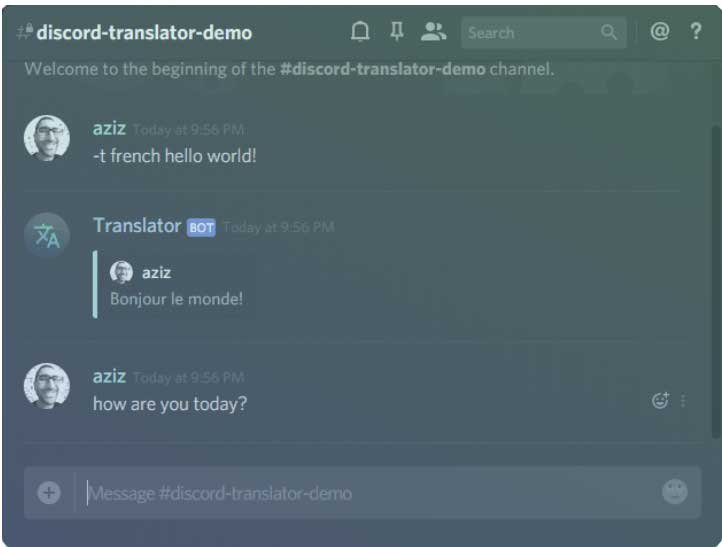 For all of you who have friends from all over the world, this discord bot is made just for you. It can translate a huge number of languages very easily without creating any kind of confusion. It can automatically translate more than 100 languages without needing any input command. It can accurately detect the source language without any trouble.
Having the ability to translate 100 languages, doesn't make it any boring or simple as it is highly customizable and there are 10+ styles for you to choose from. The price range for different tiers ranges from 10USD to 1350USD.
#7. Sesh
Sesh is a calendar bot. This bot helps manage your events and reminds you in real-time. It can process the time zones, so it will tell you when an event is due in your time zone. It is really user-friendly.
You can hold different polls to know the opinion of your friends as well.  The sesh sells itself as a cool, fun, and easy bot so there is no rigid format to follow. It gives its user all the liberty to be creative.
#8. Dank memer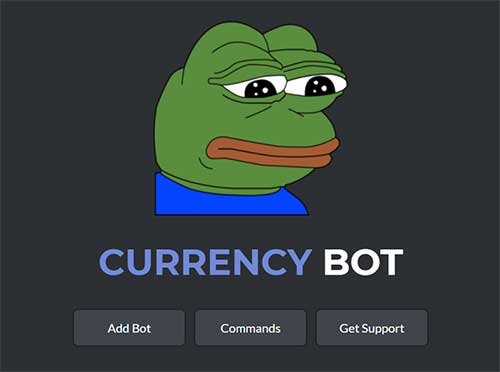 As the name suggests, this discord bot has the sole purpose of creating and sharing amazing dank memes. There are more than 300 emotes that you can use thanks to this bot. It makes sharing memes an even more fun process by having its currency and you can get and lose this currency by doing tasks. You can even plan robberies and heists to rob the currency as well.
The manipulation of images with the help of this bot is smooth and easy. All in all, if you are a member then I do not think that I need to give you any other reason to use this discord bot.
#9. Typical Bot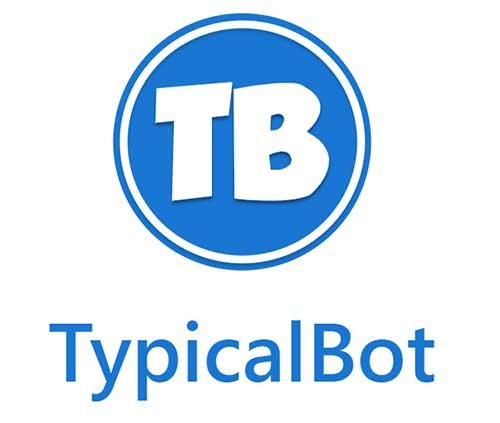 Opposite to its name, a Typical bot is not your typical discord bot with a limited set of specific functions. Instead, it is a very versatile bot with a whole range of different functions and repair or replacement functions provided. It is more like a necessity for discord users rather than an option. With the help of this bot, you can soft-ban or ban someone easily without any trouble.
You can play music as well as youtube videos on the Typical bot as well. You can also send memes. All in all, it is a complete discord bot with all kinds of features to make your discord experience more than awesome.
#10. DiscordTip Bot
This bot is for all of you who use cryptocurrencies like bitcoin and want to deal with them while using discord. Because that's exactly what this bot enables you to do. With this bot, you can send and receive bitcoins easily.
Not only this you can also play different kinds of games including airdrops, rains or coin flips, etc. The bot has a very user-friendly interface and best of all, it is free to use.
Conclusion
One of the advantages of Discord is that it is an application that already goes beyond its use for the world of video games, and allows you to create all kinds of communities or servers and improve them with third-party automation such as these best discord bots I mentioned above.
In the above list, you can find bots of all kinds, from those dedicated to managing the channel to others to play music or create games for the members of the server to participate. Tell me all about your favorite discord bot in the comments down below.
Also Read: Games Like Skyrim