This is a network disruption in which data packets are lost during their transmission through various different Hubs like fiber optics and Wireless. These tiny entities of lost data have an ultimate impact on business.
What Are Packets?
Packets are Small tiny entities of data that are packed to transmit through Fiber optics to reach their destination. Data is always packed in layers to form packets and these packets travel through a variety of copper cables and fiber optics to achieve their target destination.
What Is Packet Loss?
During transmission of data packets such as e-mails, image files, documents, or any kind of information, the data is sent in small packets, if these packets could not reach their final destination it means they are lost, and this condition is termed packet loss.
Data has to travel through fiber optics and wireless, in these hubs data packets are lost or may be delayed due to some technical reasons. The ultimate and final cause of packet loss is the loss of internet connectivity & network disruption.
Packet loss causes
The main causes of packet loss are network congestion, software bugs, security threats, and inadequate handling of data. Packet loss may be caused by one of these issues or it may be a combination of events.
Below mentioned points will explain the reason behind the packet loss.
Network Congestion:
The network reaches its maximum capacity, causing heavy utilization and an inability to handle a large amount of data, resulting in lost data packets. Heavy network traffic disrupts the transmission of data packets as they pass through various transit nodes, causing them to wait for transmission to their destination.
Network congestion becomes the reason that these packets are ignored or delayed. But now this network issue has been solved by many advanced tools and these ignored & discarded data packets are re-transmitted to their target destination with more grace.
Software Bugs:
One of the foremost and ultimate causes of packet loss during transmission is a software bug. It results in abnormal behavior of the network and occurs during system updates and disrupts the network.
Sometimes these bugs are removed by the Rebooting system but sometimes it becomes tricky to fix them easily. To minimize this unexpected network error software must be updated or patched.
Security Threats:
The malicious virus attack on the network is the main cause behind packet loss. If your network slowdown abruptly the reason is the attack of a probe which causes a delay in packet transmission. These security breaches are caused by cyber-criminals to hack someone's network.
During cyber-attack, the criminals send commands to drop data packets stream, as they take control of the router. If your system is facing a sudden loss of data at high rates then access your network to fix this threat. These unwanted cyber-attacks could be minimized by advanced software tools.
Inadequate handling of data:
If your hardware is outdated it may be a cause of data packet loss and slow down network traffic. In this situation, the system is running out of capacity and starts discarding or ignoring data. And if the network administration is not able to fix this overutilization of data, then data packets are degraded repeatedly.
Hardware insufficiency:
In addition to all other software problems, packet loss could be caused by hardware insufficiency. The use of faulty hardware slows down the performance of the network and cannot handle network traffic accurately.
If a company faces an abrupt loss of data packets and experiences lag the outdated hardware is not able to handle growing traffic and discard data. This issue is fixed by updating the hardware, so that hardware must cope with the network traffic.
The outdated hardware is more prone to cyber-attacks by criminals. They malfunction the network and increase the loss of data.
Packet Loss Test | How to test
There are many methods and ways to reduce and minimize packet loss as there are many reasons behind this packet loss issue. Check your packet loss percentage with native tools and packet loss test tools.
Take the following measures to minimize this loss to a great extent. There are 2 tests that are performed to check the reason behind packet loss:
Test for wireless coverage
Test for network congestion
Test for wireless coverage:
Perform an initial packet loss test to check this issue. You have to go to your command center by pressing the shortcut key "windows down key + R to check your running applications. Then you have to open the "cmd" application.
To perform a wireless coverage test, set your location within concrete walls so that you can easily check the signal loss. Then you have to find an AP IPv4 address to configure your IP's address. Then ping your wireless AP to the default gateway. The Wi-Fi will show you IPv4 & IPv6 addresses.
By this method, you can easily calculate the percentage of packet loss.
Test for network congestion:
If you are willing to know the packet loss due to network congestion, then you have to do it according to the following instructions.
Use Google.com and locate yourself with respect to the wireless AP. Look for any congestion in your internet connection. This practice will reduce packet loss through network congestion.
When you have done with these two tests analyze the packet loss. Suppose if you did not reach the main cause of packet loss, repeat this test with a new device & location.
How to Fix Packet Loss?
To achieve a low percentage of data loss, you have to follow the precautionary measure. Perform these measures daily to reduce this great loss to a great extent.
The physical connection is one of the foremost priorities. Check your connection between all devices is done properly, the loose cable wires cause the packet loss.
To boost up your system restart it on a daily basis. It will reduce the software bug entry and fix the data loss issue. Using fiber optics instead of any Wi-Fi connection will surely reduce this loss. These Wi-Fi connections are more prone to cyber-attacks and cause more data loss.
Replace your outdated router because they have less capacity to bear a high traffic rate. It will be malfunctioned early and increase the loss. The outdated hardware must be updated and patched to overcome this difficulty.
Detect security threats and alerts with interface alignment packets. It will rectify the loss and increase the performance of the network to a great extent. Check the cable connection and FCS cable connection.
High utilization and bandwidth of the network affect its storage capacity. It will disrupt the connection between the source and the destination and cause the loss of data. Develop a link balance to protect the traffic link and for good quality service. This is the ideal solution to overcome this loss of data situation.
How to prevent packet loss?
In the above-mentioned points, the reason behind packet loss is clearly understood. Prevent this loss of data by acting upon precautionary measures according to a specific reason.
In the case of software bugs, the system must be updated or patched to resolve this unintended network behavior. And if your company is suffering from network congestion and discard the data packets, to meet up this issue many applications and tools are available in the marketplace. These tools will easily fix this issue and your data will be re-transmitted gracefully.
Faulty and outdated hardware must be updated to overcome this packet loss problem. Updated hardware will manage growing network throughputs. To meet up with cyber-attacks many cyber-security tools are introduced. These tools will offer centralized security management without packet loss. Make sure to check your physical connections are done properly & accurately with cable devices
Best Testing Tools for Packet Loss
Packet loss test tools are introduced to minimize data packet loss during transmission. These tools enable you to keep your system healthy, so that it may work gracefully.
Enlisted below are the best and most astonishing features that manage and monitor your network and reduce packet loss.
SolarWinds VoIP & Network Quality manager
SolarWinds Network Performance Monitor
Paessler PRTG Network Monitor
Packet Loss Test
#1. SolarWind Volp & Network Quality Manager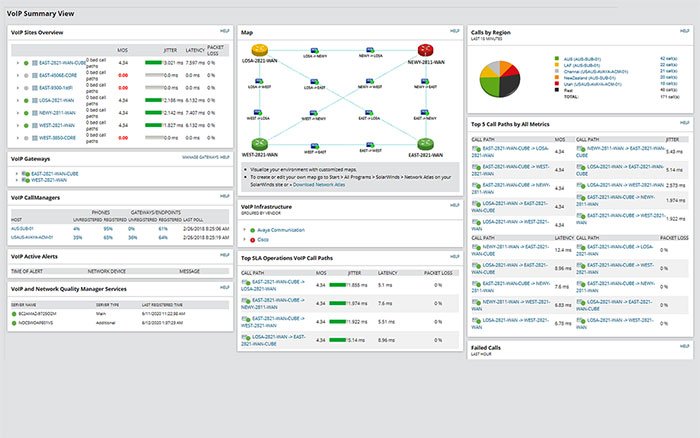 One of the most amazing and top-listed testing tools is SolarWinds VoIP & Network Quality Manager. It provides a real-time monitoring system of WAN (wide area network). It is a powerful and advanced testing tool with CDR (call detail record) analysis to enhance network performance. These records are generated to correlate with WAN performance, it will assist the user to identify the reason behind packet loss.
This advanced test tool is designed by VNQM, Cisco, and Avaya communication managers to diagnose the packet loss issue. By VolP call records you will reach the pinpoint of packet loss and that allows you to analyze network latency.
SolarWind tool enables you to customize your dashboards like graphs and charts. It offers you user-friendly log management and node management. This tool is compatible with all devices like Windows, Linux, and Mac. It provides you good quality of threat detection with amazing & admirable features.
#2. SolarWinds Network Performance Monitor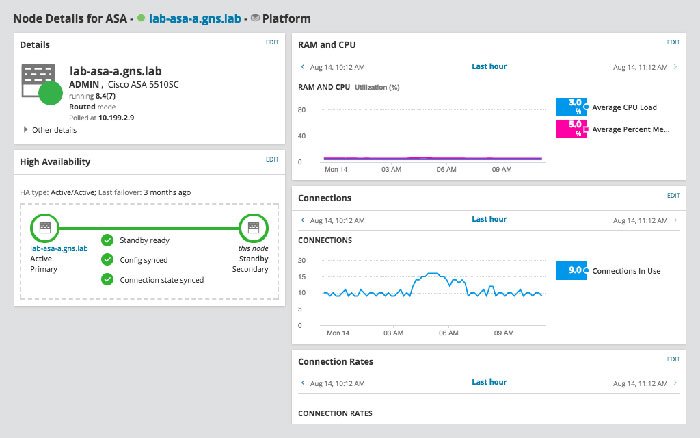 A comprehensive solution to monitor network performance which gives you the best solution to compete with the loss of data. With this test, the tool is established with powerful network latency which can be measured at the packet level to inspect deep features.
This tool will boost up your network speed and advanced forensic analysis. It will detect all suspicious activities with event-detection management.
The most fascinating feature of NPM (Network Performance Monitor) is a customizable dashboard. This feature allows you to change the graphics and charts of the dashboard to make it user-friendly and clear. You can inspect the average data loss with a deep inspection system of SolarWind.
The tool can quickly examine various programs that solve slow performance problems. It enables the management of both on-site networks and event logs. It will categorize your network traffic into a specific source. The components of NPM will automate this classification to the analyzer. Use this powerful tool to keep your system healthy.
#3. Paessler PRTG Network Monitor
A sensor-based network programming by PRTG is one of my favorite tools. This tool is used to measure the capability of the network so that we can measure the loss of packets. The sensor will create a monitoring solution that will minimize the loss.
It comes with an extensive log management system and manages your network infrastructure to combat threats. The intuitive dashboard design with an amazing visualization tool identifies various anomalies.
This tool works with three basic sensors to fix this loss. These three sensors are Cisco, IP, and SLA sensors which monitor all the solutions. The most notable benefit of the PRTG network is it has a way sensor with amazing quality. The measuring availability of the sensor provides you with a complete analysis and calculation of the percentage loss.
#4. Packet Loss Test
The fascinating thing about this tool is that you do not have to download any additional tools. This amazing test is available to monitor the availability of devices. This programming service differs from other tools that are listed above.
To conduct this packet loss test you have to go to your network settings and toggle the specific packet to analyze its frequency. It will calculate the delay in the transmission of data. To make it easier and simpler you have to select pings, this will use only 15KB of data.
Conclusion
If you want to increase the performance of your network and minimize the loss of data due to intrusion or probe or any other software bug. You have to install these testing tools to combat high network traffic. These tools make your system more reliable and sophisticated for use.
Packet loss test tools are rich with amazing features and can minimize the risk of data loss. Use these tools to monitor and analyze your discarded and ignored data due to hardware insufficiency, software bugs, and security threats.
All-in-one monitoring tools available with advanced features monitor the network bandwidth. The free online packet loss test is more appropriate and suitable for all devices like Linux, Windows, and Mac as well as compatible with all types of businesses.